An autobiographical narration on the sense of entrapment when two opposite feelings fight. On the infinite power and powerless of the division. Written in 2020.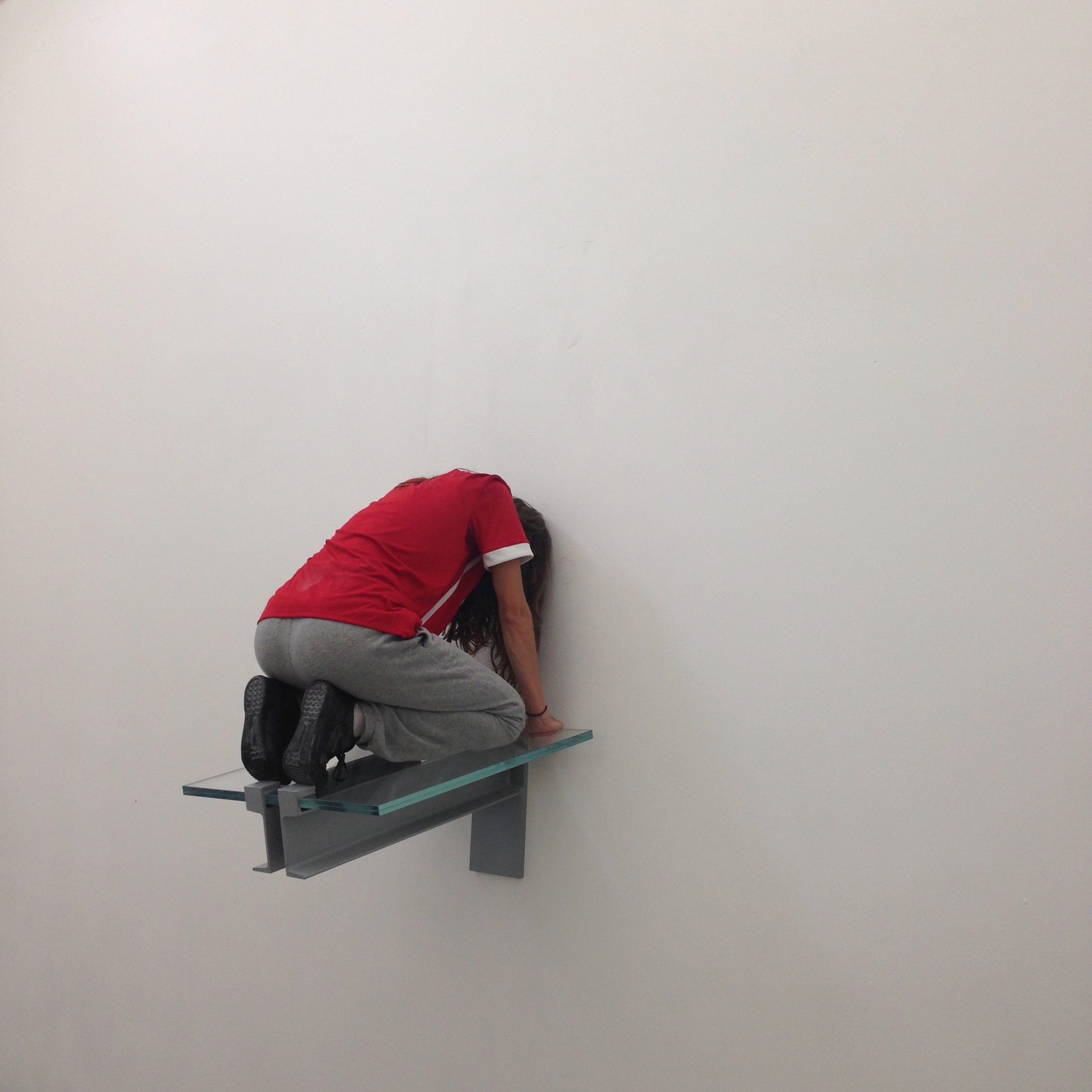 Faust by Anne Imhof at German Pavilion, Venice Biennale 2017.


Photo: Justine McDonnell
you could never leave.
Every voice, every sound, held a desire to be recognised. Positioned utterances demanding translation.
Powerless to respond, you had no choice.
Shouts and whispers, remain boundless, directionless.
You were not there. I can't hear you. I can't see you.
Repeating tones move at various times.
Capturing pauses; breathing; second thoughts; unexpected emotions.
Ambiguous tones; fragmented conversations echoed, grappling for dictatorship.
Breathing out in suffocating corners; breathless; bound up in a sense of secrecy.
Weaving its way into your mind; a state of distraction.
Traumas and struggles left to be understood, compressed into the invisible.
Separations play simultaneously, twisting around you, as if tuned to the room.
Rising through tension; to be repeated; shifting; intertwining, from one corner to another.
Confessional screams scratch against the walls.
Detached and distant, painful amid the chaos.
A relentless sequence of chants interrogate, stripping away a mask of illusion.
Moments of suspension amplifies; countless voices stacked, to then crumble.
You are motionless; isolated; chained to a disguise.
Rules provide a pulse; completely giving in, a breath that breathes silence.
Enveloped in a sequence, the voice; abandoned; disembodied and placeless; as alien as it is inseparable.
Torn between doubt; a lifeless object; a lost reflection betrayed hidden anxieties.
The constant company of your shadow; an increasing pain of the rendered 'other'.
Every breath, twisted; strained; channelled into words, calling to collapse.
In the silence of a corner, confined; restricted, allied to pain.
Like hunters, following traces; forcing; pushing through; only to break apart moments later.
Disciplined and fragile, merging phrases composed, divided to question.
A pulsing loop of screams; in a state of refusal; searching for a way to explain.
Voice crushed; endless shattering; exhausting itself, between cries and calls.
Urgent vocal interventions, pushing down; forcing through; chant to a score of swelling.
You were never meant to be seen.
Competing voices; crawling back; seek to oppress and contain.
An increasing pain of vanishing, felt the unspoken pull.
A saved ritual smashed evokes aggression.
Something must break now.
Trying to escape; replaying, spilling out in a lonely place.
Words suffocate in resistance.
Silent, voiceless, a position that tackles.
Haunting melodies pounding; sharply mirrored, frozen in pose.
Surrounded by a swarm of pulsing loops, dissolve to be re-configured.
Dragging you in; a defence against the real will soon fade.
Mouth open, suddenly peaks, despite this, stuck completely; deleting what you neglect to remember.
Justine McDonnell (b.1992) is an Irish artist who works across a range of media including forms of performance, sound and video installation and text works. Accentuating the physicality of the voice, her practice employ's the female voice in disciplined and formal structures to challenge the framework of gendered language. Elements of scripting and staging are used, interweaving autobiographical notations, fictional and historical narratives in the construction of new scripted scores.
Her solo exhibition A composition of she at the Golden Thread Gallery, Belfast (2018) was reviewed in the Emerging Artists section of the Visual Artists News sheet, Ireland. McDonnell was selected for The MAC Curatorial Directions Programme, (2017) and is a recipient of Flax Art studios, Graduate Award, the Digital Arts Studios, Home Residency Award and (2018) and The British Council Steward Fellowship Award at the Venice Biennale (2017). She has been selected to exhibit in numerous group and solo exhibitions including We Speak Silent, curated by Clare Gormley, Pssquared, Belfast, (2017), The Lab Gallery, Dublin, (2019) and Cine-Stabilimento Festival, Rome, (2020).
https://www.mcdonnelljustine.com/