This text was written by visual artist Alan Stefanato for his solo exhibition curated by Sergey Kantsedal with the assistance of Yuliya Say at Associazione Barriera in Turin, 11 February – 13 March 2022.
[This text is in Italian]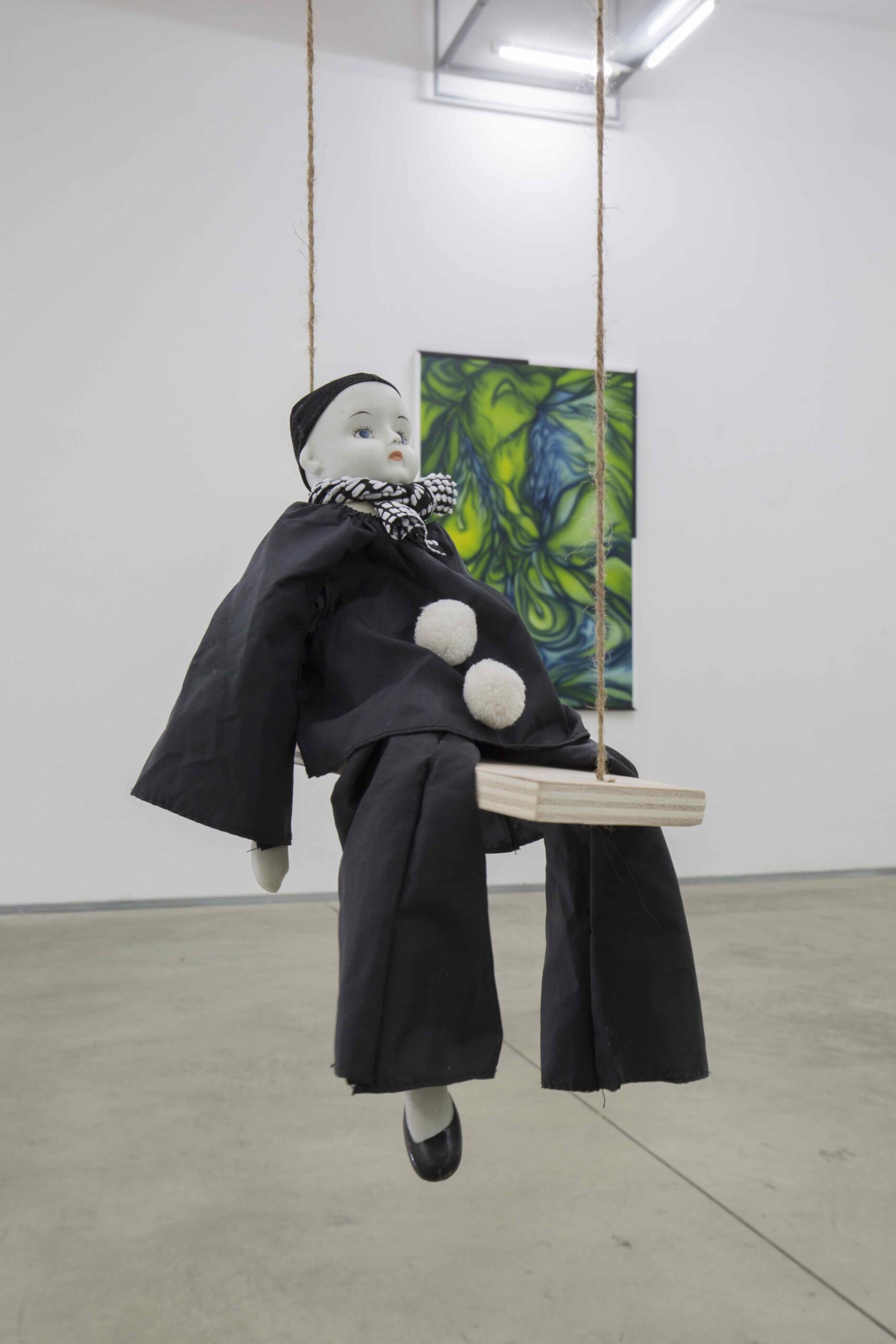 Alan Stefanato, Pierrot, 2022,
porcelain,
40 × 20 cm
Photo by Gabriele Abbruzzese
La luna era alta nella notte buia, i raggi
luminosi che la circondavano sembravano animati, disegnavano decisi delle linee nere. P contemplava ogni notte la luna tanto che la sua faccia divenne bianca come i suoi raggi, e i vestiti neri e bianchi come le sue due facce. Quella notte notò qualcosa di strano in lei e decise di rivolgerle la parola. Lei gli rispose…
P: Stare in superfice ti permette di respirare l'aria che sta nel cielo
LU: Le luci che vedi negli abissi sono mostri che vogliono mangiarti
P: Meno male vedo bene
LU: Non guardate, vedete
P: Vivere in campagna desensibilizza
LU: Le vesciche crescono sotto i piedi perché amano la natura
P: I colori sono spettrali
LU: Il sole è bianco come me
P: Una porta senza maniglie è un muro
LU: Le finestre sono le espressioni delle case
P: La pesca è un frutto di porticciolo
LU: Le piante sono pazienti non hanno bisogno di ospedali
P: I castelli sono costruiti a secchiate
LU: Se non sei bagnato sei asciutto
P: Tra le file non hai tempo
LU: Alba è una signora che va alle poste
P: I rubinetti sono fiumi deviati
LU: La neve è un errore
P: La ruota è stata inventata dai terrapiattisti
LU: Lo strano è girevole
P: La memoria è esercizio fisico
LU: La cultura porta sfiga
LU: Un uomo non può partorire la donna può scegliere
P: Naturale è tutto ciò che non è frizzante
LU: I cavalli sono carnivori diventati vegetariani
P: I dinosauri sono fatti di ossa
LU: Lo squalo è un capolavoro il pescecane fa impressione
P: I pitbull sono proiezioni mentali
LU: Il fato non è il maschio della fata
P: Un secchione con gli occhiali è un'immagine fantasy
LU: Tutti gli ucraini sono biondi
P: La zia è una sorella
P: La vita allontana i piedi dalle orecchie
LU: Un buon portamento ti fa camminare a testa alta
LU: Chi numera gli anni fa i conti con la morte
P: Il lupo non sa contare
P: La lana pizzica le pecore mordono
LU: Sogni d'oro
In un giardino, un'altalena cigolava, dondolava leggera, per niente turbata dal peso di P, che ci era seduto sopra.
Text edited by Giulia Lenti
Alan Stefanato (Trieste, 1992) is an artist based in Turin. He works mainly with oil painting, questioning its processes and figurative implications. Through color, movement, illusion and trickery he triggers mechanisms of discovery and improvisation.
Recent exhibitions and projects include: Due Pitture Seleniche: Paludi XX, Una Fontana per Lulu, curated by MRZB with a text by Treti Galaxie, Lungo Stura Lazio, Turin, 2021; On Survival, Galerie Britta Rettberg, curated by Caterina Avataneo, Monaco, 2021; GOWTHER, Bottega Vincioni, curated by Giulia Carpentieri, Rome, 2020; Open-studio at Cripta747, Turin, 2020; Pantofolaio, curated by Underground Flowers, Solo-Show project, online, 2019; Screen Tearing, Dimora Artica, Milan, 2019; Bloody Mary Show, Deutschvilla Museum in Strobl, Austria, 2018.